Miramichi Leader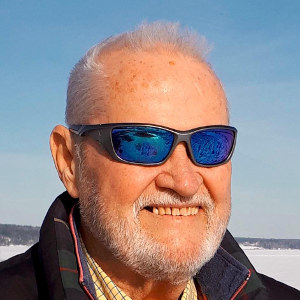 David began his newspaper career at the age of eight when his father bought the Durham Chronicle. He worked after school and on weekends cleaning and sorting type, washing presses, melting down the led from the week's people and pouring ingots for the next.
He worked for Southam Business Publications Ltd. in Toronto and Montreal before moving to Pictou County, NS, in 1966 to join his father, George, in a printing business acquired free for taking over the loans.
In 1970, the same thing happened again when the Bugle in Woodstock was on the rocks after the owner died in a car accident.
David moved to Woodstock and later traded his interest in the Pictou County company for the Bugle.
In 1973, David and his father bought the North Shore Leader. In 1974, David bought the Dalhousie News and set up the first web offset printing plant on the North Shore. In 1976 David sold the Bugle and bought the Chatham Miramichi Press.
Weekly newspapers had no editorial or sales staffs in those days. Electronic typesetting and web offset printing were revolutionizing the business with multiple advancements in quality of productivity.
David was a founding member of the Atlantic Community Newspapers Association to build the infrastructure of a brand new range of skills. It held conventions on university campuses to put on seminars for novice staff and publishers.
In 1972, David became a member of the first board of the Canadian Community Newspapers Association, a confederation of the regional associations. He developed and worked on programs to provide audited, paid circulation credentials to advertisers and toured the regions after conventions promoting membership and engagement.
Cadogan Publishing Ltd. created and sponsored the annual George Cadogan Memorial CCNA Outstanding Columnist $500 award.
He attended 40 consecutive CCNA conventions and gave seminars nationally and regionally.
When UPEI and Kings College opened journalism schools, he served on advisory boards for each and conducted seminars.
David was an early adopter of the web for newspapers. He began using the creative staff of the papers to build web sites, create a community portal and put the Leader on line in 1997 when most internet users had dial up, 28k modems.
David is a Past President and Honourary Life Member of ACNA, Past President and Honourary Past President of CCNA, an Honourary Doctor of Laws from the University of Kings College, Miramichi Chamber of Commerce Honouree for the decades long family contribution to the community.
In addition to his newspaper industry service, David also served as President of the Miramichi Chamber of Commerce, Commodore of the Miramichi Boating & Yacht Club, Chair of the Miramichi Regional Hospital Foundation. Charter President of the Woodstock Jaycees.
David and George had shared fervent ideas about community newspapers. One was the importance of local news. When people asked why important national or international news was not in the paper, David would say, "I have a deal with Time magazine". I don't cover the world and they don't cover the Miramichi". He did have a way of making national stories local. When a tornado laid waste to Edmonton, they found an EMT and a fire man, natives of Miramichi, who were involved in the recovery.
They also believed local columns were the spine of a paper. In even the smallest papers, a columnist could recap the sports scene or anything else that might be a section in a mass circulation daily. David sponsored and endowed the Outstanding Columnist Award in CCNA competition.
David believes what is in the paper is what people should be talking about in coffee shops.
He also believed in concentrating on whom the paper was being published for. He knew the advertisers wanted to reach the person who was the chief decider for household supplies. Knowing that was almost always a woman, he labeled them the general managers of the household. She didn't care so much who led her kids' league in scoring. She cared if it was fun and safe. That influenced minor league coverage.
He also believed great responsibility goes with the privilege of running a newspaper. He was very reluctant to censor ideas. A classified ad announcing the annual meeting of FLAG, Fredericton Lesbians and Gays ran in his papers every year when no one else would accept them.
He also believed in treating people equally. That made for anger when the upper crust could no longer get away with private Saturday morning trials or changes to courts in other communities. When David lost his licence for impaired driving, he got the trial moved to Miramichi so no other paper could scoop him on the front page story. That led to people tipping the paper when cover-ups were attempted.
David believes his best talent in newspaper publishing has been his instinct for journalistic talent. There have been so many they can't be listed without sad omissions but there are a few with special twists. Dee Bradley in Woodstock was a typesetter who became editor. Donna McEwen in Dalhousie applied as a typesetter, was hired as a reporter and became editor. Sharon Fraser, a nurse, tipped as a columnist became editor and moved on to other positions in print and broadcast journalism and lectured at Kings. Rick MacLean applied after getting his undergraduate BA and was instantly hired during his interview. A few months later, his application to the Canadian diplomatic corps came through. He joined but kept sending in stories about Miramichiers he encountered on his national and international tours. He soon left, went back to Western for his Masters in journalism, returned to the Leader and continued his career until he became a great teacher at Holland College.
These are just a few who came to journalism with no prior education.
David learned the hard way that he tended to hire people who would make good reporters. Not good when the job was bookkeeping, ad sales or running a newspaper press. He soon delegated those responsibilities to others.
David believes that it is impossible to have a healthy democracy without politically independent monitoring from media.
Mr Cadogan's Hall of Fame nomination letters and supporting documents:
- from Rick MacLean, Journalism instructor, Holland College
- from Gail Harding, Former reporter, associate editor and editor of the Miramichi Leader
- from Michelle Cline Cadogan
- from Paul MacNeill, Publisher, Island Press Ltd
David Cadogen: CCNA (PDF)